We are pleased to announce that Boft has installed its first two kiosks in Ecuador.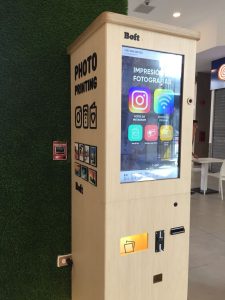 Our new partner, Danny Martinez, is a veteran enterpreneur with over 25 years of experience in marketing, sales and brand strategy development. During his career, he had the opportunity to be the Country Manager for Tempur-Pedic (a global mattress brand) for 7 years, which added incredible experience to his knowledge. Danny is the owner and manager of various businesses, main one being target.com.ec, which develops promotional marketing campaigns.
Danny told us about his first experience with Boft:
I learnt about Boft during a visit in Orlando, USA on January 2018, because my wife printed a couple of pictures in this "newfangled machine" … after we arrived to our country, I found there were an opportunity to introduce Boft in our market, then I contacted Serge who gave immediate and friendly support, and here we go! I expect Boft Ecuador to become a real success.
Thanks to Danny, we have discovered that Ecuador is a truly beautiful country – and one with amazing geographical facts. Did you know that Ecuador is located in the exact middle of the world? Given the country's name, we guess you had your suspicions, but that's not the whole story. A geographic expedition in 1736 for the first time in history defined the exact location of the Equator. In 20th century, Ecuadorian government placed a monument to commemorate this discovery.
Ecuador is also home to Galápagos Islands, an archipelago of volcanic islands which have some of the world's most unique flora and fauna.