We are happy to announce that Boft has installed its first kiosk in Sweden.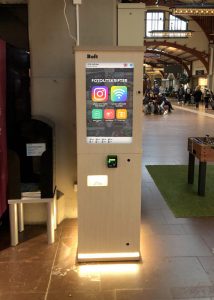 Erik Brobjer and his wife Cecilia got to know the Boft concept via a friend who had used a kiosk in Slovakia. "We were intrigued by the simplicity of the concept and the nice look of the kiosks, in light wood it truly resonates with Scandinavian design. We realized it could be a great match for the Swedish market and negotiated the rights for Boft in Sweden. We are very excited about this opportunity and to be able to help people re-live happy and important moments of their lives".
Cecilia is a teacher by training and she holds a Bachelors degree in Education. She works as an early grades teacher in Gothenburg. She also has a very strong interest in design. Erik has a Masters degree in Business Administration and has spent the last 15 years working in the Pharma and Medical Devices industries. Most recently he held a position as Global Market Development Director at a company called Mölnlycke Health Care.
The couple have now installed their first kiosk at the Central Station in Gothenburg, and after having concluded the learnings from that, the target is to rapidly expand the network of kiosks throughout Sweden.
We welcome Erik and Cecilia to the global family and wish them the very best!