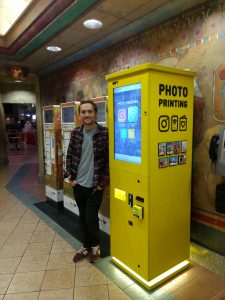 The first Boft unit in the UK has been placed at the Trafford Centre, Manchester, one of the largest and busiest shopping malls in the UK. The UK partner is Alex Rothwell, a finance professional who has worked in funding start up and small to medium sized businesses for over ten years.
I first saw Boft in Hong Kong whilst on holiday – my partner and I were immediately attracted to the sleek design and easy to use interface. Having never seen a machine of this type in UK shopping malls, I contacted Boft directly and started a process which would see me placing the first Boft unit in the UK market. I live in Manchester and saw it as a perfect city to trial Boft, before rolling out across shopping centres in the UK.
Boft have been very easy to deal with throughout the process, using modern means of communication to help with any issues that need to be ironed out. I hope to have a long and growing relationship with the company through installation of more units across the UK in the near future.